︎What I'm Working On

1. Matthew Suttor 2. Emily Coates 3. Bobby Berry

︎What I'm Working On

1. Matthew Suttor 2. Emily Coates 3. Bobby Berry

︎What I'm Working On

1. Matthew Suttor 2. Emily Coates 3. Bobby Berry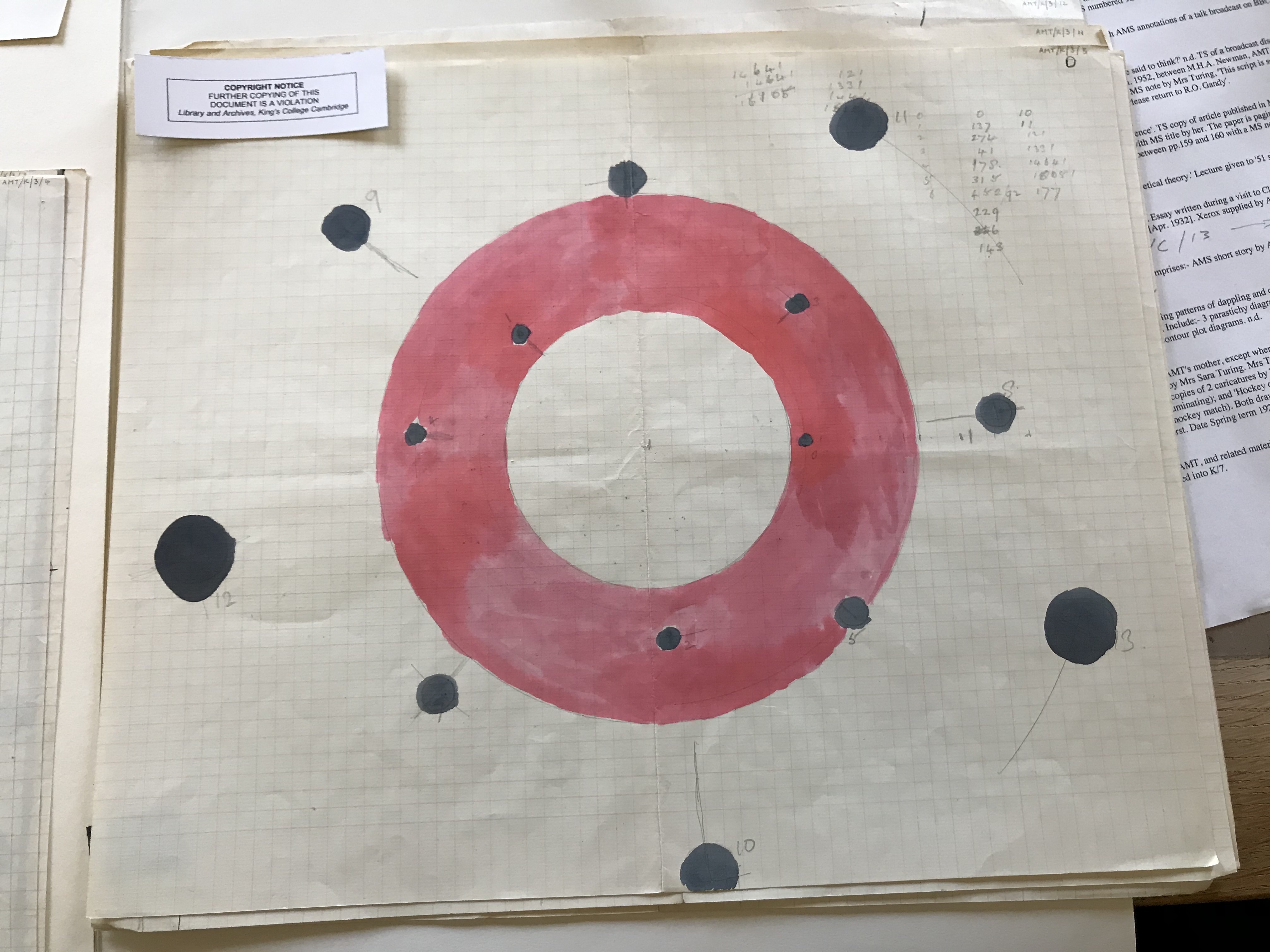 Unpublished writing of A.M. Turing. Copyright: The Provost and
Scholars of King's College Cambridge, 2019. Photo by Matthew Suttor.




What I'm Working On
Matthew Suttor


…trying to understand what the machines are trying to say…

I am composing an opera about Alan Turing, with the support of the Yale Center for British Art and the Blended Reality program at CCAM. I am collaborating with producer Hugh Farrell (Dramaturgy YSD '15), programmer Dakota Stipp (Sound Design YSD '20) and designer Wlad Woyno (Projection Design YSD '18). The opera will feature Hadleigh Adams, a baritone from New Zealand who now sings with the San Francisco Opera. The opera, to be developed at CCAM in the Leeds Motion Capture Studio, will not be a biographical piece about Turing, but an exploration of his thinking about both the limits and the promise of computation through his writing and interviews. Our opera may be a giant Turing Test.

In the summer, I was in Europe to meet with collaborators to begin work on the new opera project. After working on the initial design and text concepts with Hugh and Wlad in Lisbon, Hugh and I visited the Turing Archives at King's College, Cambridge. Our view from the archive reading room looked directly out at King's College Chapel.

In silent tandem, Hugh and I read through the original typescripts of Turing's published papers, complete with jaw-dropping marginalia in his handwriting. The opening of Intelligent Machinery, A Heretical Theory, reads: "'You cannot make a machine to think for you.' This is a commonplace that is usually accepted without question. It will be the purpose of this paper to question it." Then in the margin of the final paragraph, Turing handwrote "trying to understand what the machines are trying to say." It was a stunning revelation to us of Turing's own struggle to make known the possibility of Artificial Intelligence. In opera, you need to find a reason to sing, and I think we found it.


Unpublished writing of A.M. Turing. Copyright: The Provost and
Scholars of King's College Cambridge, 2019. Photo by Matthew Suttor.



While in Europe I also gave a series of talks about teaching creativity, two at the Prague Quadrennial of Performance Design and Space and another at the Arts in Society Conference, which is in Lisbon this year. The talks center around the work my students have made for Gallery + Drama. Now in its twelfth year, Gallery + Drama is an end-of-year celebration featuring performances and installations created by students from the School of Drama in response to the Yale University Gallery collection. This coming spring, we plan to hold this class at CCAM, beginning a new, exciting chapter in cross-institutional collaboration at Yale.

I am excited to be working on a new piece at CCAM. It was nearly twenty years ago that choreographer, dancer, and playwright Tim Acito and I received a grant from the then-named Digital Media Center for the Arts (DMCA) to compose and produce a multimedia dance work called The Ankle Diver. The work incorporated live performance and projections with processed video and computer music playback controlled both in the theatre and remotely in Cincinnati through Internet2, a computer networking consortium led by members from the research and education communities, industry, and government. Photographs from the performance still line the bathroom walls at CCAM.

And Turing is very much in the news. Turing was recently voted the most influential person from the 20th Century by public vote in a BBC broadcast, and his image has been chosen to appear on the new £50 note by the Bank of England. During his short life, he invented the computer as a mechanical avatar to explore the nature of consciousness. In so doing, he opened Pandora's box and unleashed a now ubiquitous technology on the world. Children growing into adulthood today have never experienced life without a computer: Turing's legacy lives on in our cell phones and laptops, maps and watches, cars, and classrooms. Screens have changed how we interact with each other and our environment. Our opera needs to account for and reflect this rapid development of our consciousness.

Given that, The New York Times has only just published an obituary for Alan Turing this past June, sixty-five years after his death. In The Times, Alan Cowell wrote: "His genius embraced the first visions of modern computing and produced seminal insights into what became known as "artificial intelligence." We believe beginning our investigation of his vision at CCAM is timely, indeed.


Matthew Suttor has taught at Yale University since 1999, first in the Department of Music and since 2002 at the School of Drama, where he is Professor in the Practice and Director of the Beechman Center for Theatrical Sound and Music. He is also affiliate faculty and advisory board chair at CCAM. Often combining music technology with acoustic forces, Suttor has composed operas, dance works, and music for all kinds of theatrical productions as well as chamber music, sacred pieces, sound installations, and scores for television. A Fulbright Scholar, Suttor received a doctorate in composition from Columbia University.
---
Emily Coates with Yvonne Rainer, studying Xerox copies of 1965 photo documentation of her "Parts of Some Sextets" for a 2019 revival of the dance commissioned by Performa 19. Baryshnikov Arts Center, June 2019. Photo by Simon Gérard.





What I'm Working On
Emily Coates


I tend to work on many different kinds of projects at once—in both the "analog" and digital realms of performance, with outcomes that may take the form of live performance, writing, or film, or some hybrid of these media. Often, my work is inspired by different performance histories, which become a point-of-departure or material for reinterpretation. These projects feed my teaching in various ways, not least in my belief in relentless and voracious interdisciplinary (transdisciplinary, metadisciplinary) practice, which underlies every course I teach, and in my emphasis on history as a through-line and foundation for contemporary artistic practice.

Over the summer, I worked with the choreographer and filmmaker Yvonne Rainer, an artist I've performed with for many years, on a reconstruction and reimagining of her 1965 dance "Parts of Some Sextets." The original cast included dance luminaries Steve Paxton, Lucinda Childs, and Deborah Hay, and the visual artists Robert Morris and Rauschenberg—hard to get more "cross-disciplinary" than embedding the visual artists in the piece itself. The project will premiere this November 15-17 in the Performa 19 Biennial.

I'm also developing an experimental film with the filmmaker John Lucas, centered at Yale's Wright Laboratory. As one outcome of a yearlong residency I've had at the Lab, the film will collide dance artists and scientists in conversation and collaboration.

In a third project this fall, I'm creating a tribute to Oskar Schlemmer's dances for the Performa 19 Gala. Schlemmer is a Bauhaus artist whose work should be of great interest to anyone working across performance, visual art, and architectural disciplines.

Lastly, I'm currently a Dance Research Fellow at the New York Library for the Performing Arts at Lincoln Center, where I'm working on an archive called the Khmer Project, which gathers oral histories on Cambodian classical dance. This work relates to a larger research project I'm working on about touch-points between dance and science.

My fall courses, THST 395/ART 389a Postmodern Dance and THST 427/AMST 349 Technologies of Movement Research, directly link to these various endeavors. Among the many wonderful aspects of teaching is the opportunity to push forward the questions and inquiries that drive me most, nourished by the remarkable community of interdisciplinary artist-scholars at Yale. This is the community that CCAM fosters. What a joy!


Emily Coates has performed internationally with New York City Ballet, Mikhail Baryshnikov, Twyla Tharp, and Yvonne Rainer. Her choreography has been commissioned and presented by Danspace Project, Performa, Baryshnikov Arts Center, University of Chicago, Ballet Memphis, and Works & Process at the Guggenheim, Yale Art Gallery, and the Wadsworth Atheneum, among other venues. Recent commissions include her first evening-length work, "Incarnations" (2017), and "A History of Light" (2018), developed with Josiah McElheny, both at Danspace Project/St. Mark's Church. Upcoming projects include a revival of Rainer's "Parts of Some Sextets" (1965) for the Performa 19 Biennial. She is associate professor in Theater and Performance Studies and director of dance studies, with a secondary appointment in Directing at Yale School of Drama. With physicist Sarah Demers, she is coauthor of Physics and Dance (Yale University Press 2018).
---
Edmond de Belamy, from La Famille de Belamy

, by the French art collective Obvious, was sold on Thursday at Christie's New York.

Image from Christie's.





What I'm Working On
Bobby Berry


Is there a marketplace for AI art?
Yes,
Of course,
The "Portrait of Edmond de Belamy" sold for $432,500.

This rhetorical conversation has been reiterated to me frequently while sorting through articles on the internet.

And though the half million-dollar sale is indeed fact, I find the above response to be contextually anemic.

Market value is a slippery entity, especially in the arts.

Oftentimes, the determinant of value is as much context as the artwork's quality.

This of course draws the question whether context is actually distinct from "artistic quality"—
but I am starting to digress.

Here, for the sake of simplicity, we are talking only about market value.
So: why has this portrait been able to sell for such a sum?

(Here, I should provide a disclaimer that this is only my interpretation.)

The "Portrait of Edmond de Belamy"—though it is an AI-generated artwork—is, in a broader sense, a historical artifact.

It is "The First" AI-generated artwork, a title granted by the larger forces/entities within the market that publicized its sale:

To be "The First" is to be privileged by history
To be "The First" is to be an iconoclast
To be "The First" is to be cutting edge

The work has been transmuted by circumstance, now a symbol of a larger agenda.
AI is novel, fetishized as the power that will revolutionize society. Just as it shapes aspects of our daily and social lives online, some wish to see it legitimized as a form of artistic expression.

At the risk of sounding conspiratorial, the very fact the work was being auctioned in such a publicized manner speaks to the larger agenda set forward by its sale.
The portrait is now the champion of the AI-tech art movement, its commercial success now a rallying point.


Bobby Xavier Berry has opinions about art, sometimes. After studying Computing and the Arts at Yale University, he has been working on and off at CCAM, among other places, on projects in Virtual Reality, Augmented Reality, and Artificial Intelligence. His primary interest is Data and the information that is (and isn't) captured by technology, though he also enjoys experimenting in digitally mediated performance. Currently, he serves as a joint fellow between Tsai Center for Innovative Thinking at Yale and CCAM.