︎New Geometries︎

Emily Coates in conversation with Max Wirsing

︎

New Geometries︎

Emily Coates in conversation with Max Wirsing

︎

New Geometries︎

Emily Coates in conversation with Max Wirsing
Schlemmer Loops for Performa 19 Opening Night Gala: A Performa Bauhaus Inspired Festivity, New York, featuring Brittany Engel-Adams. Choreography by Emily Coates, costumes by Reid+Harriet. Photo copyright: Paula Court. Courtesy of Performa.





New Geometries

Dance and architecture in a changed world

Emily Coates in conversation with Max Wirsing


The invisibility of COVID-19 has introduced a new awareness of physical space and movement into our lives. For many, this kinetic re-orientation is new and jarring. But for those who have long studied the strategies and symbolism of the human form, it has underlined the deep lyricism and consciousness of gesture.

Before lockdown, Emily Coates, Associate Professor in Theater and Performance Studies and director of dance at Yale, had just finished a busy fall of performances and premieres. Max Wirsing, a dancer, is in his third year of the M.Arch I program at the Yale School of Architecture; his program is currently navigating the risks of the COVID-19 pandemic, adopting a hybrid model that has pushed the majority of coursework online. Both Coates and Wirsing take highly interdisciplinary approaches to their crafts and thinking, and are natural collaborators. In their eyes, opportunity abounds, priorities shift, and ideas break new ground.

Coates has performed internationally with the New York City Ballet, Mikhail Baryshnikov, Twyla Tharp, and Yvonne Rainer. Her choreography has been commissioned and presented by Danspace Project, Performa, Baryshnikov Arts Center, University of Chicago, Ballet Memphis, Works & Process at the Guggenheim, Yale Art Gallery, and the Wadsworth Atheneum, among other venues. Recent commissions include her first evening-length work, "Incarnations" (2017), and "A History of Light" (2018), developed with Josiah McElheny, both at Danspace Project/St. Mark's Church. Other projects include a revival of Rainer's "Parts of Some Sextets" (1965) for the Performa 19 Biennial. She is Associate Professor in Theater and Performance Studies and director of dance, with a secondary appointment in Directing at Yale School of Drama. With physicist Sarah Demers, she is coauthor of Physics and Dance (Yale University Press, 2018).

Prior to matriculation at Yale, Max Wirsing worked for over a decade in the performing arts as a freelance dancer and arts administrator for various Minneapolis-based dance companies. He has performed work by Morgan Thorson, Karen Sherman, Chris Schlichting and Justin Jones, and was the Company Manager for Emily Johnson/Catalyst for many years. Wirsing was a recipient of the 2014 McKnight Fellowship for Dancers. Through his pursuit of architecture, he attempts to understand the built environment through the lens of human somatic experience, and harness the potential of built form as spectacle.



—

Alex Zafiris

---

Max Wirsing: First of all, welcome back to school. I hope you're safe and healthy, and feeling some sense of grounding in our 'new normal'. We started this conversation months ago to talk about a dance work that you were working on—everything feels so different now.

Emily Coates: Agreed. It's worth noting I'm writing this on September 24, 2020 but everything that follows from here we've added in layers. Our national reality kept pivoting and changing, making this conversation feel a little like quicksand. What matters one week ceases to be important the next. We're careening from one national tragedy to another. What is the role of art-making in such a context?

MW: In many ways, it's hard for me to imagine the world where we get to come together as a group, as an audience, and watch a new dance piece together. COVID-19 has presented so many questions surrounding when, and how, we'll be able to gather in large groups. And what about content? Some choreographers make work that is very narrative, and others hate being asked what their work is about. Between COVID-19 and George Floyd's murder, issues of global health and safety, race and racial inequity, white privilege, violence, and justice have flooded to the forefront of everyone's mind. Do you, or how do you, see dance taking on or facilitating these necessary conversations? How has this pandemic changed the way you're creating and thinking about showing work? What is the state of dance right now?

EC: Completely on point and massive questions, Max. Our original assignment for Maquette was to talk about the Oskar Schlemmer centenary and a project that I created called Schlemmer Loops, which was both an homage and a reimagining of his Bauhaus dance experiments. That conversation now feels wildly jejune. It's not Schlemmer's fault. It's that the particular questions Schlemmer was working on in the 1920s

—

his interest in abstraction and social satire in the context of post-World War I Europe

—

don't feel relevant to the current crises. Making art in America is a different project in the spring of 2020. For me, it's a moment to reflect and reevaluate my relationship to my art form.

Dance has no option but to reinvent itself right now for a remote world. I want to highlight one area where innovation is especially strong, which is in the realm of dance film: live performance's recourse in a pandemic. What was before a predominantly white-led genre has transformed into a space in which Black dance artists have maximized video to express rage, grief, resistance, protest, and humanity. These films bypass the film festival gatekeepers, go straight online, and have a viral, global life. Two I admire are Jonzi D and jessica Care moore's We Want Our Bodies Back and Johnnie Cruise Mercer's _AShadowPrince. There are many, many more. What do you see changing within architectural practice? And with regard to your background in dance: What from that background can you bring to bear on the current moment, if anything?

MW: At their most basic level, both dance and architecture share a concern for bodies and space. Interestingly, this pandemic has forced everyone to conceptualize their body in terms of space. Everyone now understands very acutely, and can visualize, a six-foot extension of their body in all directions. We confront that now as we walk down the sidewalk, or take a trip to the grocery store. In this way, maybe Schlemmer's work is not 'jejune' as you suggest, but maybe incredibly relevant! Our inhabitation of public spaces conjures a mental and emotional parallel to his stick dance—as if we all had poles attached to our limbs extending our kinespheres out to an invisible radius of viral transmission. We're all doing that to some degree in our mind's eyes, and we feel some sense of anxiety or violation when that radius is breached by a stranger.

I'm fascinated by this sudden change in our awareness of our bodies, and certainly a bit disheartened as well. As someone coming from dance, I really relish and crave physical interaction and proximity, so this shift is really disappointing. It's an emotional shift, and our bodies hold onto that. Our bodies intuitively know how close is too close. I feel it, even watching a movie or television show that depicts people gathering in close proximity; my body has an instinctive reaction, warning me that it's not safe. Maybe this is a stretch, but it's like our parasympathetic nervous systems are understanding perceived danger spatially through a model, like Schlemmer's stick dance.


︎

Black dance artists have maximized video to express rage, grief, resistance, protest, and humanity.

EC: Thank you for salvaging Schlemmer! You're right, his Pole Dance is uniquely applicable today. The current project that I'm working on also looks at humans' relationship to our environments, but with nature, more than with other humans. It's a separately created, juxtaposed project with my long-time dance colleague Emmanuèle Phuon, a brilliant French-Cambodian choreographer and dancer who has been engaged with Cambodian performance forms and their ability to speak to current concerns. We're each creating a performance piece that will share an evening, which explores Cambodian dance and American postmodern dance, and environmental science and behavioral ecology, as these illuminate humankind's struggle to represent, embody, and understand our natural world.

The other project I'm working on is Transpositions: Dance Poems for an Online World, right here at Yale, produced by the Yale Dance Lab in partnership with the Yale Schwarzman Center. We're producing a sixteen-choreographer series of 'digital dance poems', featuring dancers from the Yale and New Haven dance communities, created within the limiting and blossoming poetics of Zoom. To your point about social space, we're definitely learning to navigate physically all sorts of new geometries. What of your dance background relates and feels relevant to the architectural work you are doing now?

MW: I'm constantly searching for ways that dance and architecture converse with one another. On a very simple level, they're both speaking a language of bodies and space. They both find limitations in gravity and the forces of physics, and those are great places to start; but ultimately there's a lot more nuance than that. I think the dramaturgy of dance holds a key—a certain way of deriving meaning out of abstraction that choreographers do so well. I'm interested in the architectural parallel. Maybe it has to do with poetics, but that too is a slippery slope. I get the feeling that metaphor is often seen with skepticism in architecture.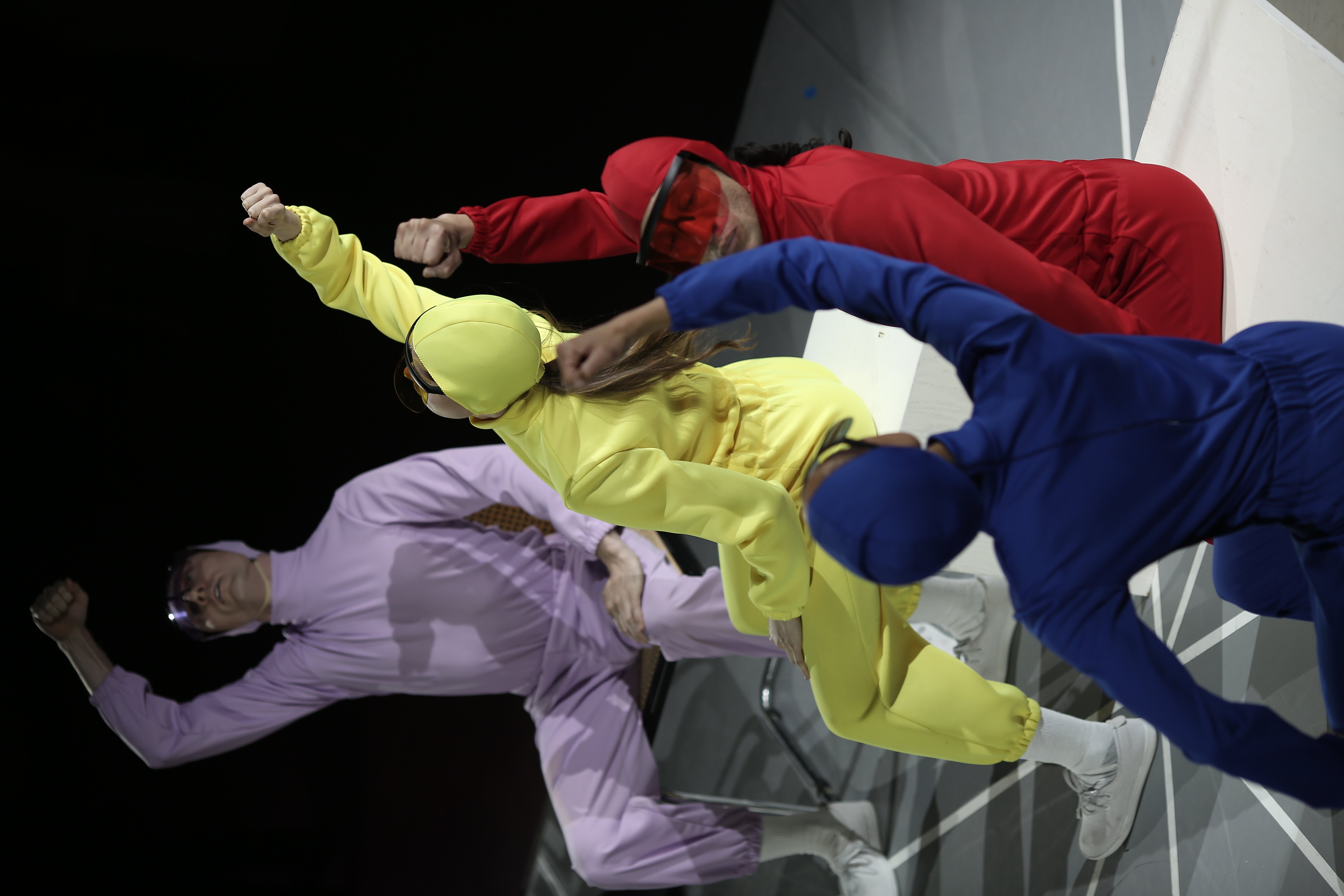 Schlemmer Loops for Performa 19 Opening Night Gala: A Performa Bauhaus Inspired Festivity, New York, featuring Miguel Anaya, Reid Bartelme, Brittany Engle-Adams, Megan Wright. Choreography by Emily Coates, costumes by Reid+Harriet. Photo copyright: Paula Court. Courtesy of Performa.


EC: Do you envision architectural metaphors? What are you most excited about making right now?

MW: I don't know if metaphor is the exactly the right word. There's something about symbols in architecture that can be a little too 'one-to-one', like designing an airport shaped like a bird, or a library that looks like an open book. Too obvious, you know? But I am interested in the poetics of space in relation to the body and its senses. I'd love to design spaces that make you feel something; not simply because they look cool, but because the experience of moving through space is something that you feel in your body—an experience—and maybe it's not something that you would have words to describe, as much as a perception that your body understands. I think that that's kind of where dance-thinking feeds into this for me.

It gets really complicated, though. Designing buildings these days necessitates so many considerations: climate change, life cycles, carbon footprints, and material sources, energy systems, circular economies, urban contexts, fair labor practices, the histories and repercussions of redlining, gentrification, and now the impacts of COVID-19 and social distancing.... the how and why of building has a gravity that gets incredibly overwhelming.

EC: The Bauhaus emerged following World War I, and was cut short under the looming threat that became World War II. Invention follows trauma, at least in the pattern of twentieth century performance history. As we emerge societally from global pandemic and transformative political protests, where are we now? What are our new forms going to be?



MW: Those are incredible questions. We're in the middle of a global pandemic, in the midst of another heavy political election cycle, and as I type this, my home, Minneapolis, is literally burning in reaction to racist police violence and murder. Crisis and trauma are all around us. I guess I wonder what role abstraction will have in its wake. Western Art History often talks about 'pure abstraction' as an escape from the horror of wartime reality. But it seems to me that art right now is only getting more political, and more useful as a tool of healing and justice, so I don't know to what extent we will be escaping into abstraction. I bet our artistic reaction to this trauma will take on really different forms than it has in the past. I'm curious how you see that manifesting for you. Do you see this type of invention coming up in your current collaboration?




︎

I'm fascinated by this sudden change in our awareness of our bodies.

EC: My work has always involved 'collaborations' plural, so when you say "current collaboration", I take that to mean the network of artists I am in close dialogue with at any given moment in time. It's an incredibly challenging moment in every way that you've outlined, and I think one pathway through it is through creating even more radical, collective, collaborative forms of authorship

—

collaboration as a political m.o., and a polyvocality. I'm interested in art that knits together diverse worldviews. Enough with the myth of the lone genius. Schlemmer beautifully folded his white male European point of view into seemingly universal forms, but they are of a moment. I think we need real, detailed, earthbound stories now

—

not abstraction

—

relayed through multiple global perspectives, to survive this moment in history.



MW: I wholeheartedly agree.